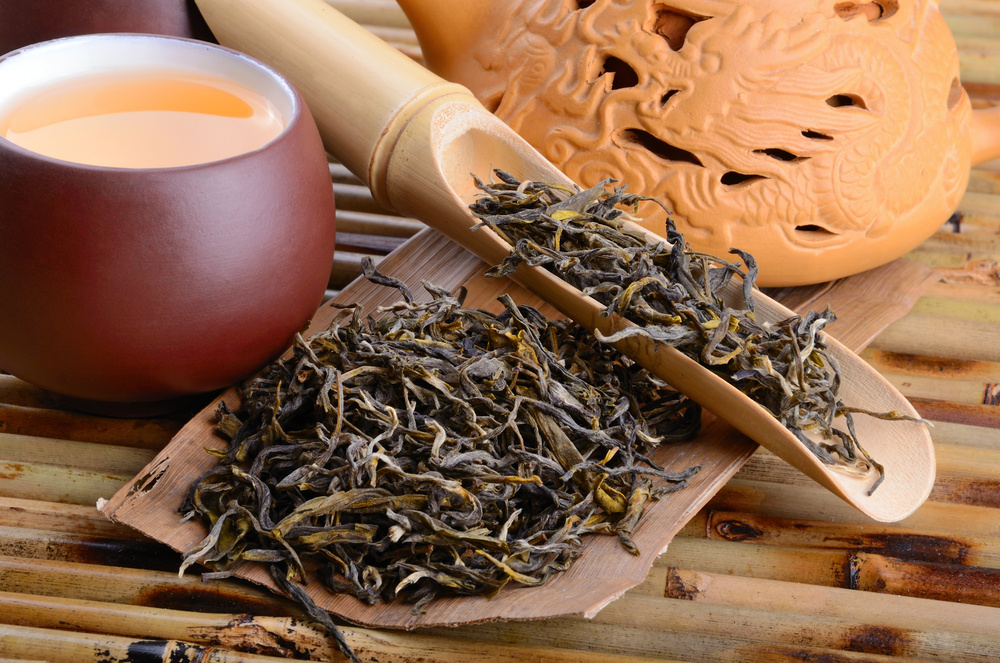 In the early Qing dynasty (1644), a new method of tea processing was introduced in the Wu Yi Shan Mountains: partial fermentation of the leaf. Early written sources refer to these teas as mountain teas. This is a reference to their birthplace, the rocky soil of Wu Yi Shan. To this day, tea from this region is called mountain tea. Shortly after its creation, another name was coined: Ming Bei Oolong Cha, which means "Northern Fujian Black Dragon Tea".
The production of oolong spread from northern Fujian to the south, beyond Guangdong province (Chao Chou region, Phoenix Mountain) and reached the island of Taiwan in 1810. Four main types of oolong are still produced in these areas: Wu Yi Shan oolong, Anxi oolong (Southern Fujian region), Feng Huang Dan Tsung oolong (Guangdong) and Taiwan oolong.
HISTORY OF OOLONG
If you are interested in the history of black and white tea, you should know the Chinese province of Fujian. This southeastern coastal region, with its historical ethnic diversity, has been a driving force of tea culture for more than a thousand years. It is therefore not surprising that Fujian is responsible for the creation and perfection of oolong. Due to its biodiversity, the mountainous soil of Wu Yi Shan is rich in minerals and has long been recognised as a special place, ideal for the cultivation of fine teas.
Even before the flowering of oolong, the Wu Yi Shan region in northern Fujian had a golden age of tea production, beginning in the Tang Dynasty (618-907) and reaching its peak in the Song Dynasty (960-1279). And the technology of pressed tea production was so advanced that it has survived since the late Song dynasty.
In 1392, the newly founded Ming Dynasty (1368-1644) suddenly banned its most popular tea, the pressed cake. In an attempt to stamp out rampant corruption and reduce the surplus tea trade, this inadvertently led to a dark period in the history of tea production in Fujian. Due to the confiscation of equipment, tea production virtually came to a halt for 150 years. Ironically, these troubled times were the birthplace of some of Fujian's most famous tea processing techniques. Amidst the tumultuous changes in the tea industry, tea artisans (presumably Buddhist monks) invented a method of drying tea in bulk over charcoal.
The light burning of charcoal, combined with the partial fermentation of the tea leaves, determined the characteristic taste of Wu Yi Shan oolong. No one knows when exactly this method originated, but it was first mentioned in a poem written by a monk living in the mountains of Wu Yi Shan in the late Ming and early Qing dynasties. The tea is referred to as 'Qing Cha' (literally 'black tea'). This name is still associated with Wu Yi Shan tea to this day.
The method of tea production by partially oxidising the tea leaf and drying it over charcoal spread south to the province of Guangdong, which we know, and across the strait to Taiwan. Over time, differences in soil quality and variety of tea bushes, as well as the taste preferences of the local population, influenced the local technology of oolong tea production. But originally, all dried tea leaves resembled the modern Wu Yi Oolong: dark, long and slightly curled. The name oolong, meaning "black dragon", probably originated from the resemblance of the tea leaf to the body pattern of the mythical Chinese dragons.
BASIC CHARACTERISTICS OF QUALITY OOLONG
A good quality oolong will never be bitter, no matter how long you brew it. Some Guangdong oolong may have a slight bitterness that is popular with lovers, especially locals, but higher quality teas will still be milder and sweeter.
Oolong has a rich flavour even after several brews. And you can expect a long aftertaste after all oolongs.
Most of the leaves should be undamaged and should look like real leaves when brewed.
The prepared leaves should be tender, pliable and look fresh. Oolong leaves should not look rubbery, old and coarse; otherwise, this indicates a late harvest.
BENEFICIAL PROPERTIES OF OOLONG
Lately, oolong has gained interest in the West, as some modern researchers claim that it promotes weight loss even in obesity. Mid-fermented oolong is believed to have been used for several hundred years as an effective treatment for the digestive system, headaches and even to cleanse the body of excessive tobacco and alcohol consumption. However, although studies of this kind have been published, the guaranteed weight loss with oolong has not yet been confirmed by a sufficient number of medical studies. Beware of unscrupulous salesmen promising miracle cures. The health benefits of any tea are like icing on the cake; its primary function is to quench thirst and to have a pleasant taste and aroma.
However, the physiological benefits of oolong tea can be quite strong if drunk immediately after a large meal. By soothing the stomach, oolong is an excellent counterbalance to heavy or fatty foods.
In addition, oolong, grown in the mineral-rich lands of Wu Yi Shan Mountain, relieves muscle pain and is popular in Japan as a liver health enhancer.
At the other end of the spectrum are oolongs from Anxi and Taiwan, considered beneficial for the respiratory tract in traditional Chinese medicine.
You may also like: